Posted by Scot P Wilson on Sep 1st 2023

At Italianiron & BritIron Classics, let us "Fuel Your Race Passions" is not just a slogan but a commitment, whether you are building a vintage TT or Pantah racer for competition, a Ducati F1 vintage street bike or restoring a Norton Commando or Manx racer. We want to thank the massive number of our customers internationally and domestically for another great year!! We continue to offer a comprehensive, specialty portfolio of Ducati, TT, Pantah, F1 as well as Molnar Manx and Norton Commando engine, chassis and bodywork kits to all of our customers. We continue to help restorers and racers with providing them with top quality spares and offering painting services when required due to our restoration expertise and build result. Just very recently we have assisted in providing a complete set of fairings for a customer's Cagiva Red Ducati 916 Superbike, a complete set of yellow Ducati 996 Superbike fairings and complete Ducati TT2 bodywork to include our aluminum fuel tank. This is one of the exciting aspects of being involved in the world of vintage Italian & British racing motorcycles that we can be of service with a cross section of products and services. In the example below, our customer needed additional OEM bodywork that we had but we color matched from our base line color to match to his bike very successfully.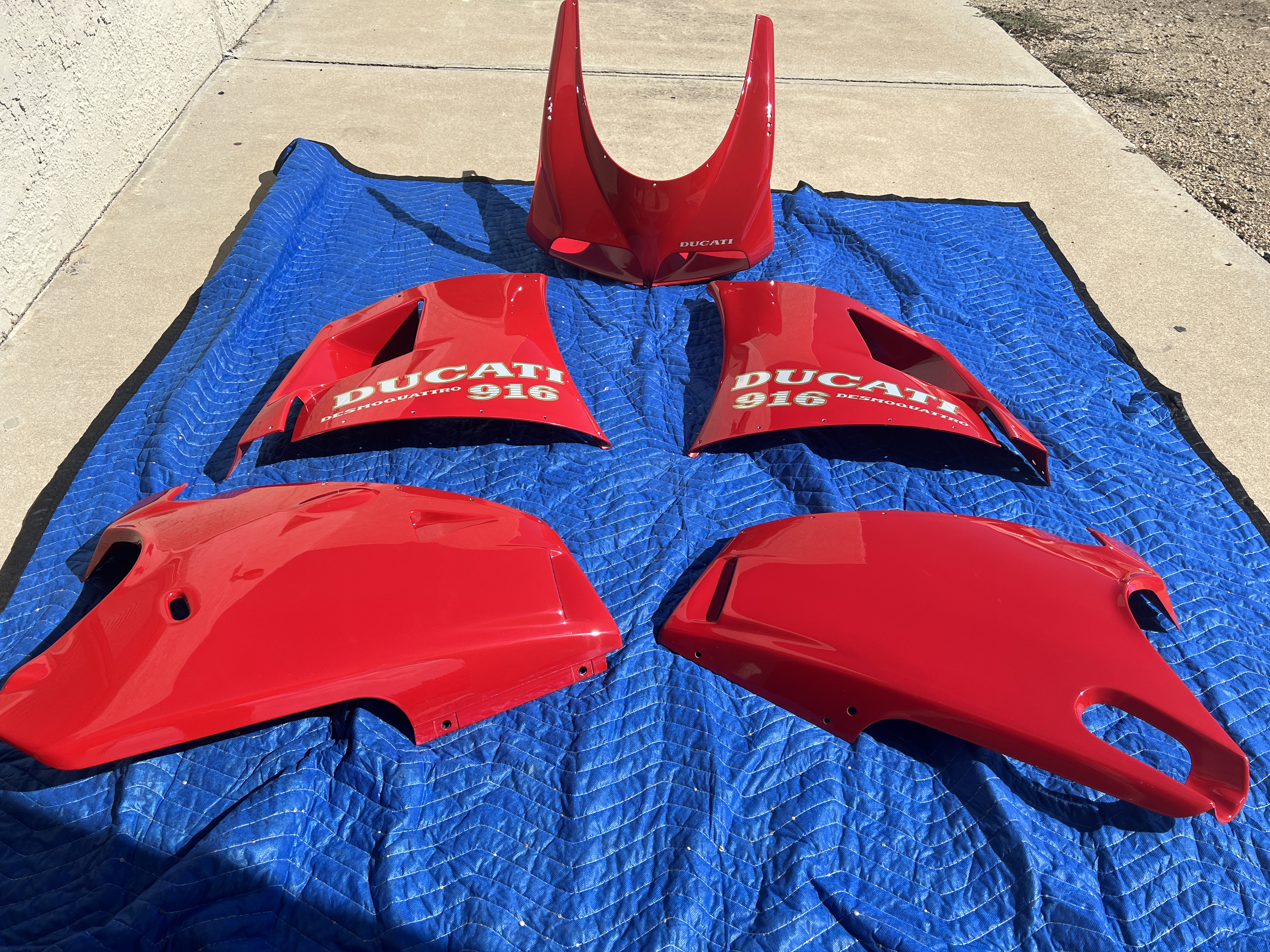 In today's world, we use computer color matching technology on our different paint projects as the early Ducati 916 Superbikes, for example, used a darker Cagiva Red as shown above that has more burgundy than orange. We also completed a similar job for another customer who had purchased a yellow Ducati 996 Superbike that had some serious bodywork damage. Yellow as a rule is usually very difficult to match effectively. Our customer sent us a piece from his damaged front cowling and we provided him with a nice set of fairing panels and front cowling for his Ducati 996 Superbike. We often get some nice emails from customers regarding our work, however, this customer who used our services with full faith and confidence, actually called to thank us in addition to his emails as he was so smitten with the quality of the work, the packing of the refurbished bodywork and the experience in general. As OEM Ducati 916, 996 and 748 Superbike bodywork continues to become more and more difficult to source, we work hard to repair and to refurbish these genuine OEM bits until our next sea container arrives from Europe which will hopefully be very soon.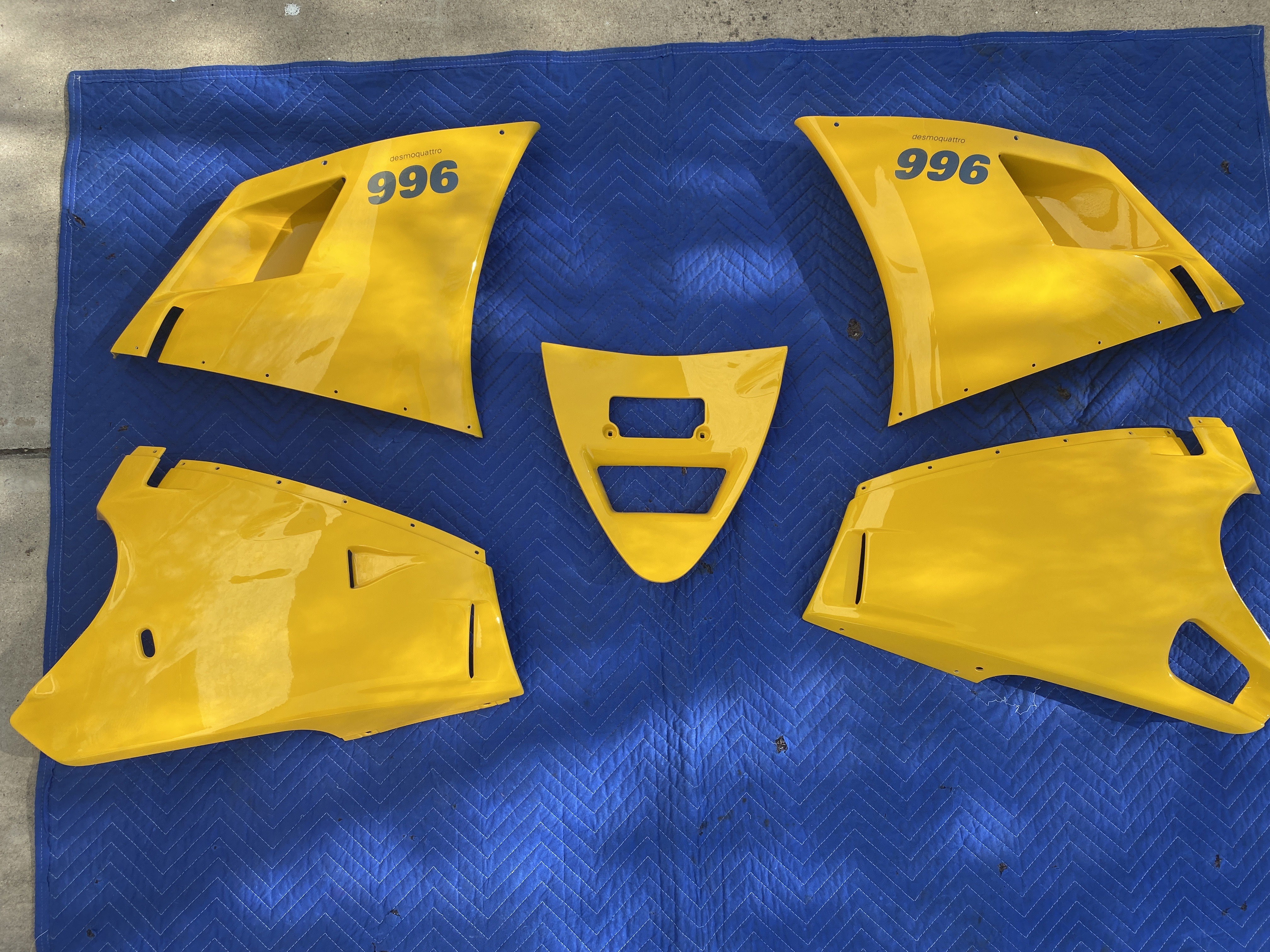 As specialists in Ducati TT, Pantah and F1 racers, we continue to offer quality bodywork and chassis kits in chrome-moly for our customers worldwide. Shown below is a set of TT 2 bodywork that we provided and painted for a customer in Nevada. We use the best quality fiberglass and not the chopped strand type that is most commonly made available for purchase. We take great pride in the quality of our Ducati TT, Pantah and F1 bodywork and with our high level of attention-to-detail as our kits are modeled directly after Tony Rutter's Formula 2 World Championship winning TT racers. Just recently we have begun to make our same Ducati TT bodywork in carbon fiber with red gelcoat that does not require paint. Saving money on not painting the fairings does help in offsetting the additional cost of the carbon fiber. Just know that whatever your build requires, we can offer these top quality bodywork items either unpainted or painted with factory sponsorship decals professionally applied as well. Or we can offer copies of the sponsorship decals to be applied over the red gelcoat of the carbon fiber fairing by you or by our team of builders. Feel free to contact us at Italianiron7@gmail.com with enquiries.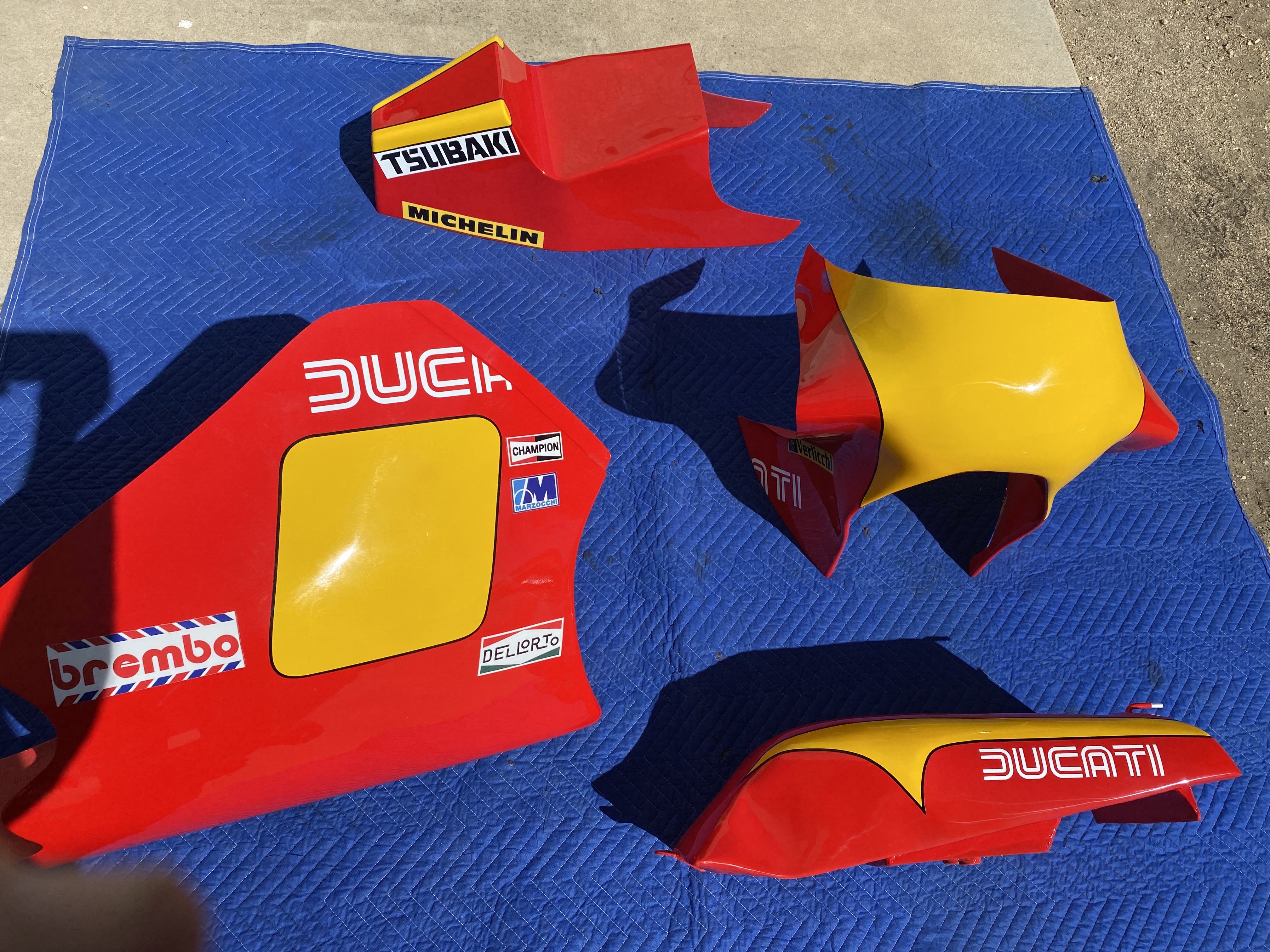 Do check-out our Italianiron.com website to explore the very wide range of bodywork that we make available for an entire range of Ducati's from bevel singles through bevel twins and up through our Pantah, TT 2, TT 1 and F1 racers. We have also sold a number of our Vic Camp bodywork kits for racers who enjoy taking their Ducati racing singles to the track to race in eligible vintage racing classes or to take their racers to the track for that spirited track day. Shown below is Jamie's exquisite Ducati single racer with our quality Vic Camp bodywork kit. Our heart and soul is committed to the sport of vintage motorcycle racing worldwide. We also offer a wide range of bodywork for other Italian marques such as Aermacchi and Moto Guzzi in addition to a broad range of racing bodywork for Honda and Yamaha. In addition and as a dealer for Molnar Manx UK, we also offer bodywork, fuel tanks and other racing spares for your Norton Manx, Norton Commando, Norvil, Seeley and Rob North. For enquiries on our British racing motorcycle offerings, contact us at Britironclassics@gmail.com.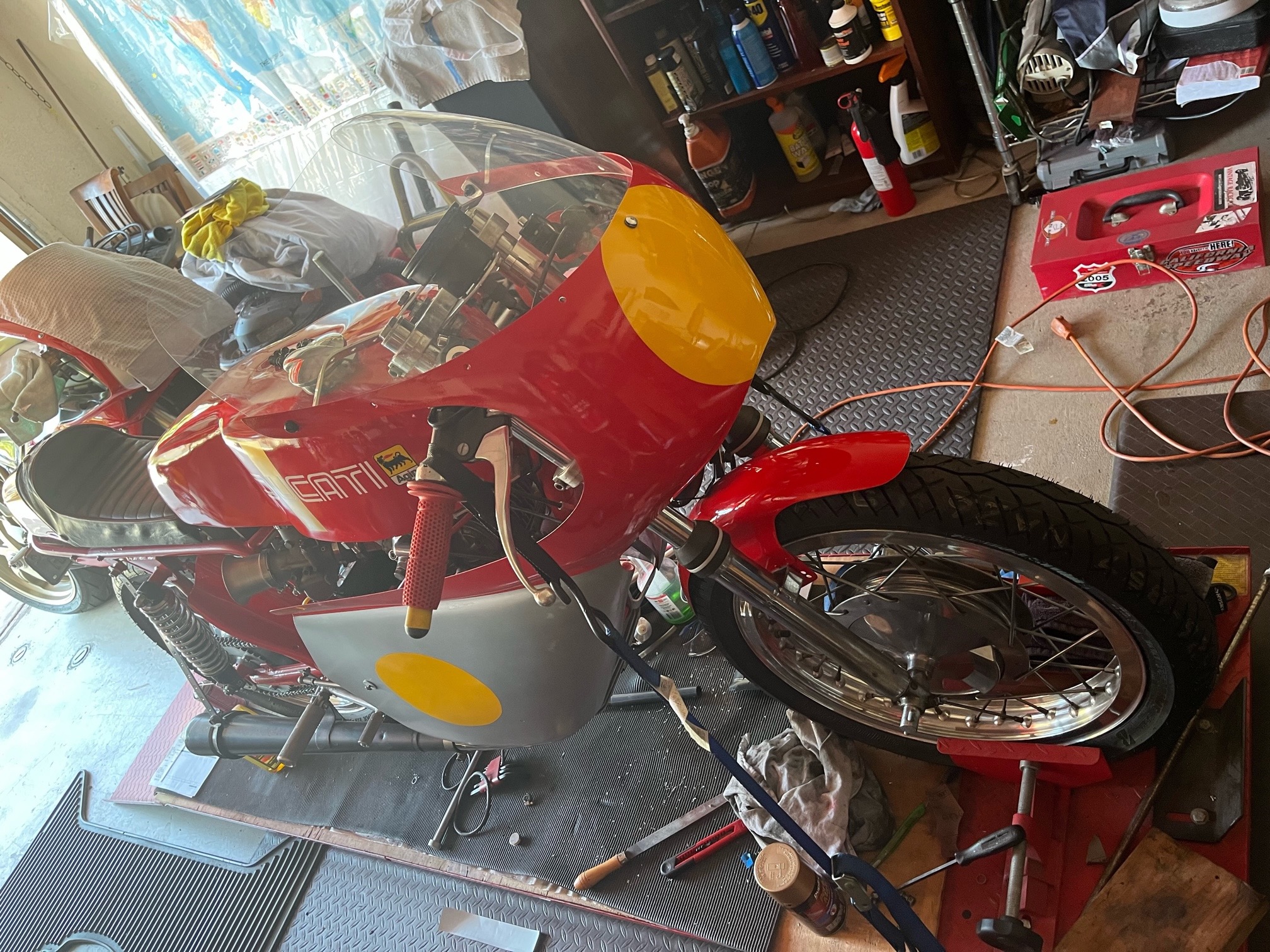 At Italianiron & BritIron Classics, we offer a wide spectrum of race quality spares for the Ducati TT, Pantah, F1 racers as well as for the Norton Manx and Norton Commando racers. We also have a large amount of OEM items for vintage Ducati's and Nortons. Check out our Italianiron.com website for Ducati, TT, Molnar Manx and BritIron Norton Commando, Dominator and Atlas bits. We remain committed to supporting the world of Vintage Motorcycle Racing as well as to supporting those specialty bike builders as a supplier of quality chassis, bodywork and specialty racing spare parts. As mentioned before, at Italianiron.com, let us "Fuel Your Race Passions" is not just a slogan but a commitment whether you are building a vintage TT racer for competition, a Ducati F1 vintage street bike or a classic Norton Commando or Manx. As a result of our offerings, it is our hope to help you to become immersed in the history, the passion and the early technology of these amazing machines. Let us "Fuel Your Race Passions" to keep the sport of Vintage Motorcycle Racing alive and well!!