Posted by Scot P Wilson on Aug 1st 2023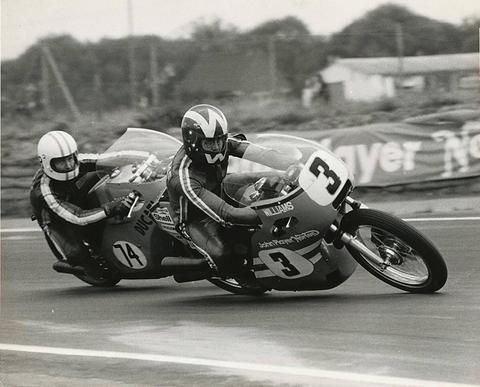 At Italianiron & BritIron Classics, let us "Fuel Your Race Passions" is not just a slogan but a commitment, whether you are building a vintage Ducati TT, F1 or Pantah racer for competition or restoring a Norton Commando or Manx racer. Shown above is a brilliant photo of Paul Smart on his Ducati 750 ss Imola racer and chasing Peter Williams on his John Player Norton. This picture epitomizes our passion for vintage racing motorcycles. 2023 is already becoming another big year for us with new acquisitions and new speciality racing spares for Ducati's and Norton's. Shown below are just a few of our rear shocks for racers and sport riders as we are dealers for some of the best manufacturers in the business!! We find that K-Tech is our premier rear shock manufacturer that we use on our Ducati TT, F1 and Norton racers with great success. Shown below is our racing K-Tech unit. We have worked with the K-Tech factory engineers to develop a rear shock that maximizes the track performance of our Ducati TT1 and TT2 racers. K-Tech shocks are made in the UK and are made with adjustable length, pre-load, compression damping and rebound damping. We also offer a more budget friendly option of our K-Tech race shock and both units come complete with an instruction manual as to how best to adjust your rear shock to maximize performance. Please provide your weight and application so that we can assist you with your best set-up.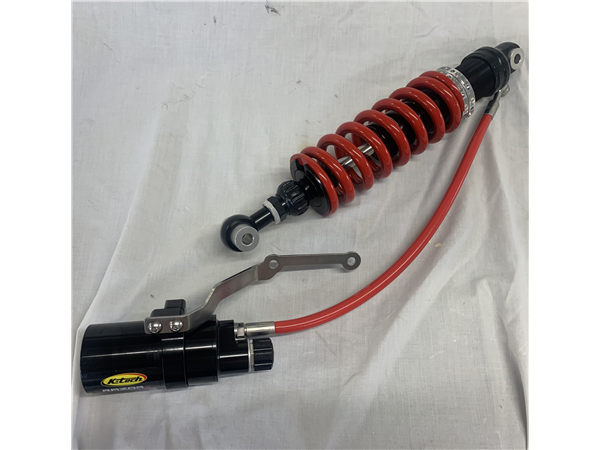 As K-Tech dealers, we also offer for purchase our best rear shock set (pair) for the Norton Commando racers. K-Tech rear shocks are manufactured in the UK. We have also worked closely with the factory engineers and with our strict specifications, we believe that we have to offer the best brand available for classic racing motorcycles. K-Tech rear shocks are adjustable from between 335 mm to 345 mm. Each unit is an all aluminum body, with adjustable damping, pre-load and ride height adjustments. We supply with a 14 N spring, for racers approximately that are 177 lbs or 80kg. However, other springs are available to order. K-Tech is an outstanding shock for both racing and for road use. They are a perfect fit for Manx Norton, Seeley G50, Seeley or Featherbed Commando, Cafe Racer and Triton builds. These units are fitted with 8mm x 19mm bushes as standard at each end. However, if you have different requirements, please contact me at Britironclassics@gmail.com. The finish of our K-Tech rear shocks for British racers is in anodized black. Please provide your weight and application so that we can best assist you.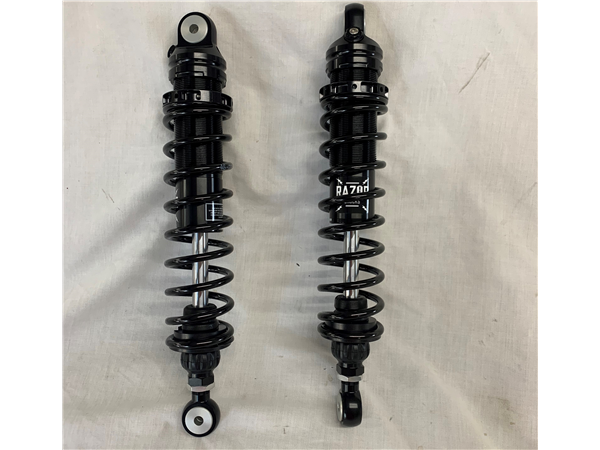 Molnar Manx is the class standard in vintage racing motorcycles. As a result, we offer Falcon rear racing shocks as the industry standard in rear shocks for a racing Manx Norton. These rear shocks are made with aluminum bodies. They are simple, lightweight, and with only preload adjustment. They weigh just 4.64 lbs of 2.1kg per pair. The Falcon rear shocks maintain a classic appearance and look period correct when supporting any classic racing bike. The Falcon rear shocks can be fitted in the conventional method with the reservoir at the bottom of the shock body, or inverted to minimize sprung weight. Standard length for a Manx is 13.4". Standard length for a Seeley is 13.9". Other lengths are available in +1/4", +1/2" and +3/4" to accommodate racers who wish to use their own geometry settings. Falcon rear shocks are great for racing Manx`s, Seeley G50`s, Seeley & Featherbed Commando`s, other Norton twins, and every other classic racing motorcycle. Falcon rear shocks can also be used on the road for Cafe Racers and Triton builds. We use Manx fittings of 8mm x 19mm bushes at both ends. Seeley has 8mm x 19mm bush at one end, 3/8" x 19mm bush at the other end. Falcon rear shocks are available in black or satin silver, with black springs only. Available with either 60lb, 70lb or 80lb springs. For an 80kg rider on a 125kg Manx we use 70lb springs. Please provide your weight and application so that we can best assist you.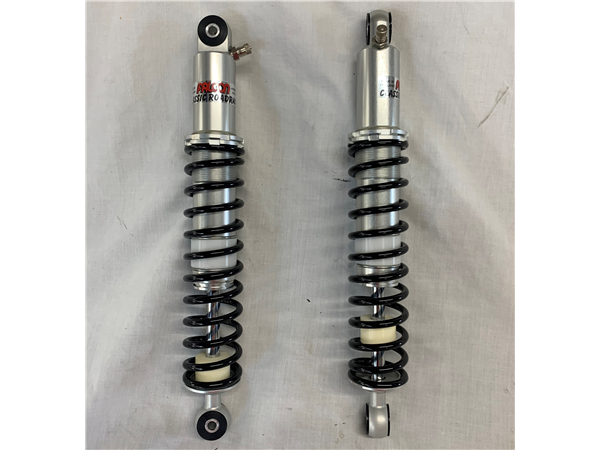 If your goal is not to race your Norton and push it hard through the twisty's, we offer for purchase the Hagon brand of rear shocks with exposed chrome springs for originality, as an alternative. Hagon rear shocks offer Pre-load adjustments only. In addition, top shrouds are available for an additional price of $122.00 as originally fitted. Hagon's are ideal for bike restorations and for those builders who are looking for originality of their Norton Twins, Cafe Racer and Triton builds using a featherbed frames. However Hagon rear shocks are not high "performing" units. We offer Hagon's with a standard length for a Norton Manx of 340mm center to center and with 8mm diameter x 19mm wide bushes top & bottom. Also offered as standard, we would provide 14Kg/cm springs, which is appropriate for a 177 lbs or 80Kg rider. Different lengths & different springs are available to order to suit different chassis applications. However for best race or performance applications, we would recommend using either the Falcon, Maxton or K-tech rear shocks. Please provide your weight and application so that we can best assist you.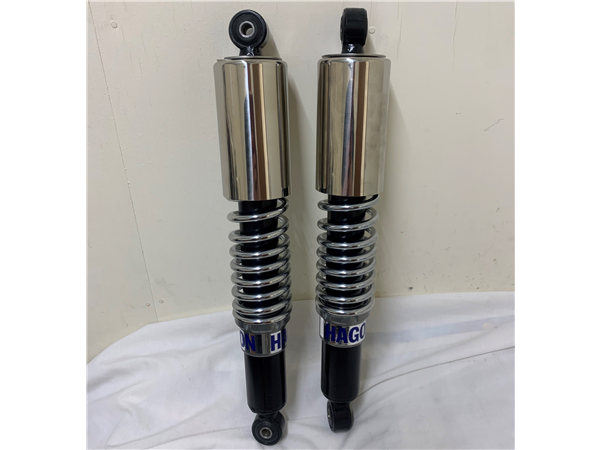 We have also had a great deal of fun offering specialty racing spares for Norton Commandos in addition to the Molnar Manx, Vincents and Matchless racers. This is in addition to our product portfolio for Ducati TT, Pantah and other Ducati racers. We remain very excited to support enthusiasts for Norton Manx and Norton Commando racers through Molnar Manx and BritIron Classics Norton. Please review the numerous newly manufactured TT, Ducati F1 and Norton Commando items such as our aluminum fuel tanks, for example, and listed on my Italianiron.com website. British marques are listed on the Britiron or Manx section of the website. As mentioned before, purchasing is a 2 step process whereby you can place your order to secure your item. After purchasing, we shop shipping and we invoice you only once you have agreed that we have found you the best rate by the best shipping company to your final destination. Please email me at Italianiron7@gmail.com for Ducati & other Italian marques or Britironclassics@gmail.com for Norton & other British marques. As a result of our offerings, it is our hope to help you to become immersed in the history, the passion and the early technology of these amazing machines. Let us "Fuel Your Race Passions" to keep the sport of Vintage Motorcycle Racing alive and well!!