Posted by Scot P Wilson on Oct 31st 2023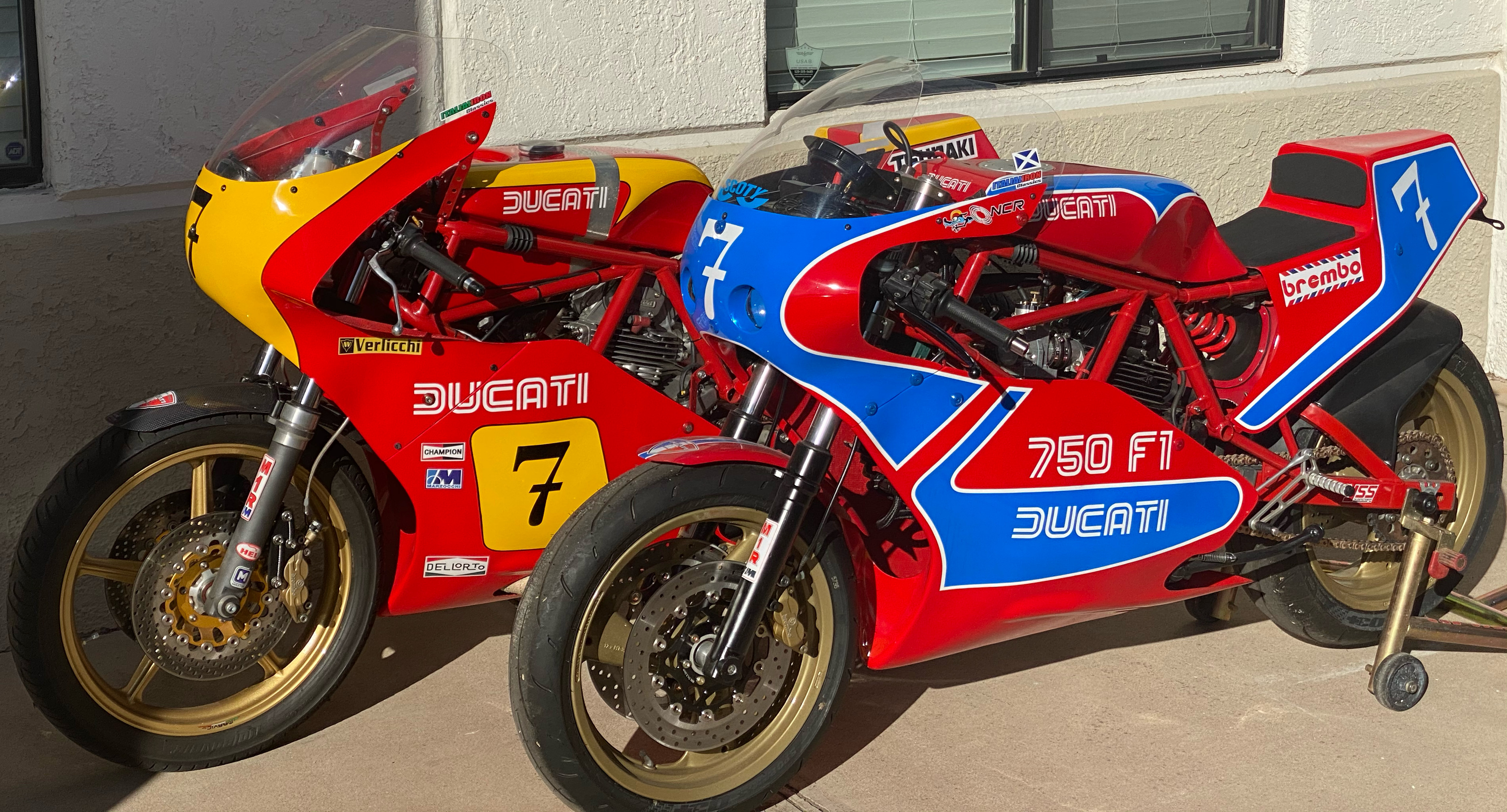 At Italianiron & BritIron Classics, let us "Fuel Your Race Passions" is not just a slogan but a commitment, whether you are building a vintage Ducati TT, F1 or Pantah racer for competition or restoring a Norton Commando Manx racer. It has also been interesting that we have had good success offering different customer's/friend's Ducati, Norton and Triumph motorcycles to new customers internationally through our website. Whereas, selling racers or bikes is not our focus, it is nice to know that our website has united owners of these classic motorcycles to new owners and enthusiasts. Our shipping expertise has also made shipping domestically and internationally very cost effective for these new owners. For all of our customers and those customers who we have been discussing your ordering of our chrome-moly Ducati TT race frames, TT bodywork kits, our CNC Pantah rear heads and our Marvic magnesium wheels, please know that I am having shoulder surgery again at the VA on 3 Nov 23 that will disrupt the timing of shipping of your orders until mid-November. This time the surgeons want to fix the left rotator cuff so that I will have a fully functioning matching set as the right rotator cuff was fixed in January of this year!! It appears that jumping out of too many perfectly good airplanes and helicopters when I was in the USMC and pushing the limits of grip at the racetrack has caught up with this 67, now almost 68 year old body!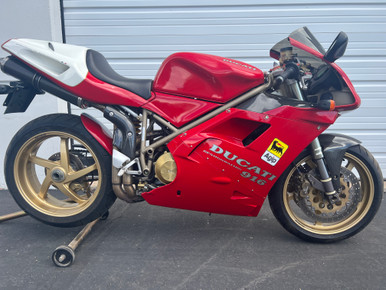 Shown above is Tom's exquisite 1997 Ducati 916 S Superbike. Until Tom's retirement due to health complications, he was the lead Jaguar technician at our local Jaguar-Land Rover dealership. In addition to being a talented mechanic, Tom has been a huge fan of the Ducati brand and is proud to be considered a Ducatisti. In addition, he has also raced one of his Supersports in local racing competitive events. His Ducati 916 S is in exceptionally fine condition with 5 spoke magnesium wheel set, custom billet Cycle Cat components and numerous carbon fiber components throughout. This Ducati 916 S Superbike is an excellent example of these iconic Superbikes manufactured at Borgo Panigale, Bologna, Italy. Note that this bike is not currently running, however, we are happy to replace the belts and fuel pump to get it running. Tom is happy to accept offers on his 916. Otherwise, this machine is in outstanding condition. More photos are avaialble upon request in addition to the listing on our Italianiron.com website. This special Ducati 916 comes with a valid Arizona, USA title and is free and clear of any liens. Take advantage of our shipping expertise in making this very fine machine shipped safely to your street address.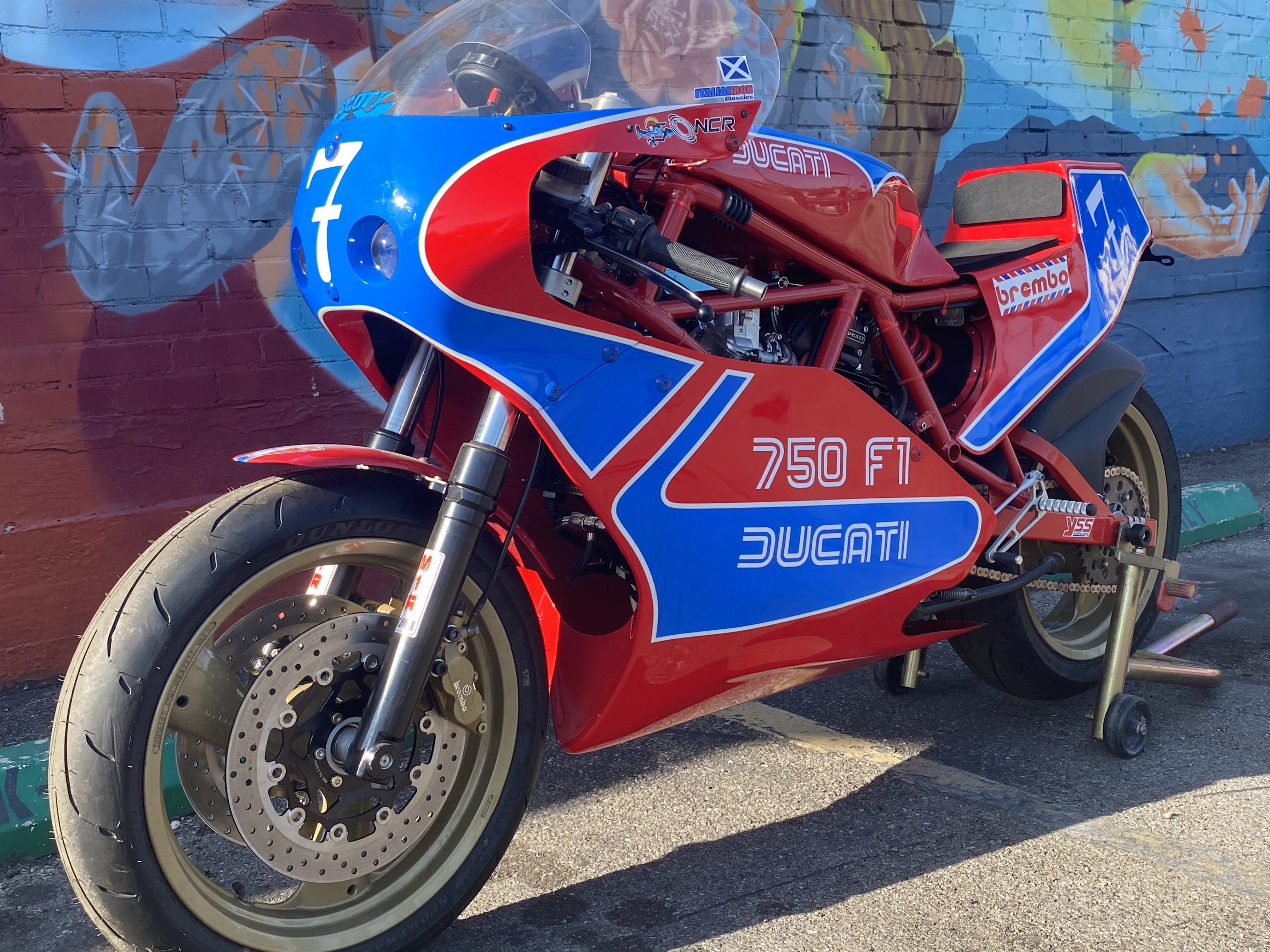 Also for purchase is my Ducati TT1 with race our prepped Ducati 750 cc Elefant engine with dual plugged and flowed heads as shown above at one of our local photoshoots. In addition to being an engineering masterpiece, Ducati's throughout history have also been some of the most divinely inspired works of art on two wheels!! This example uses our chrome-moly Ducati TT 1 race frame with our street Ducati TT 1 bodywork kit and our Ducati TT aluminum "shallow sump" fuel tank. This tank feeds our two 36 mm SmartCarb2 flat-slide carburetors for maximum performance, power and fuel economy. I would not use any other brand of flat-slide carburetor but a SmartCarb on our Ducati Pantah, F1 and including Ducati Monster S2R 1100 cc engines as our Ducati engines excell with these SC2's. I have written 14 blog posts/articles on the successes that we are finding with Ducati and now Norton Commando engines that are available in the blog section of our Italianiron.com website. Further, a record of the build of our Ducati TT 1 racer project for the street or track can be found in the albums section of my Scot P Wilson (Italianiron Classics) Facebook page. In addition, I am always happy to respond to enquiries or questions regarding our Ducati TT racers, builds, kits and the stellar performance of our SmartCarb flat-slide carbies on our Ducati and Norton Commando engines at Italianiron7@gmail.com.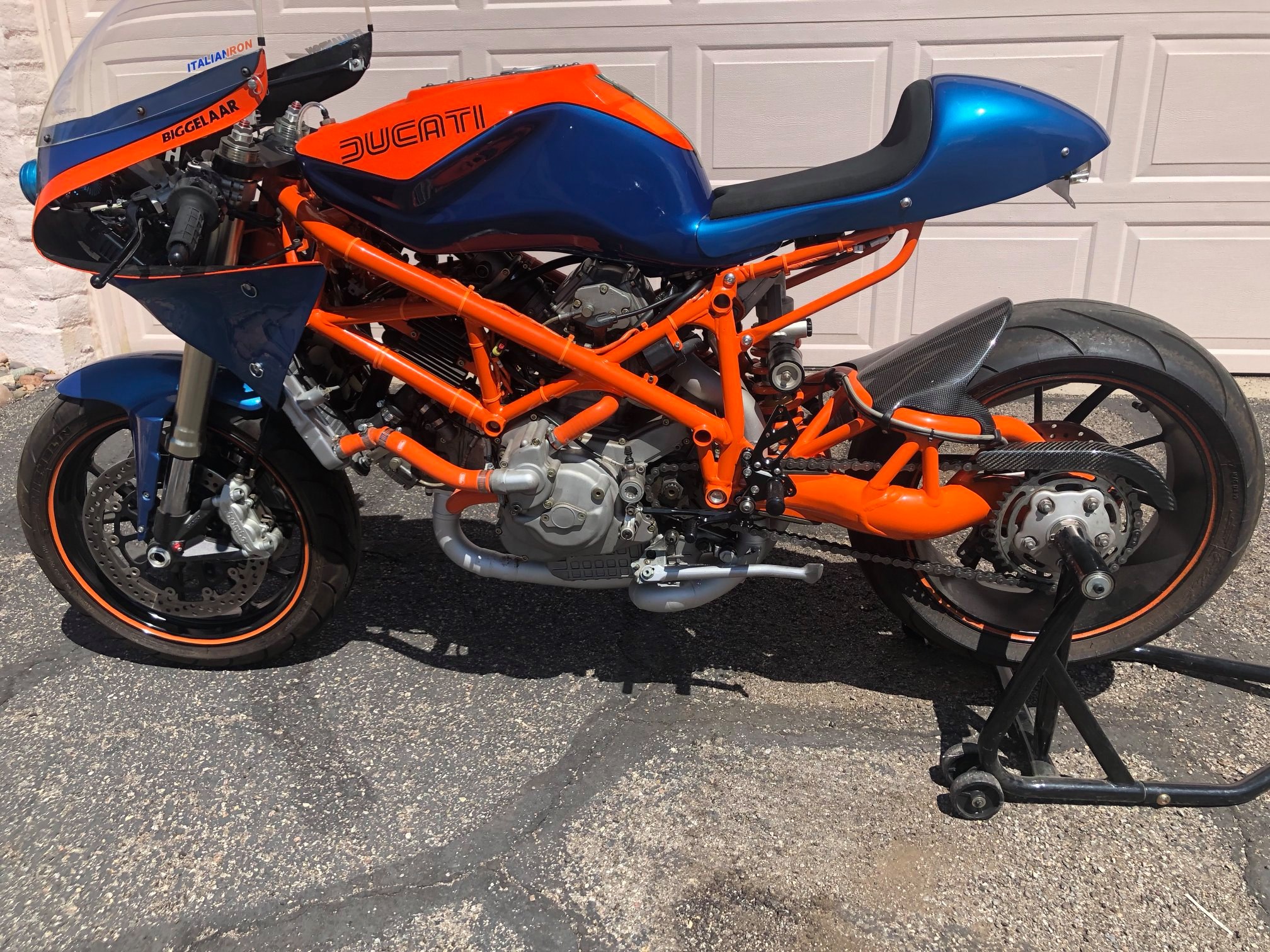 Also for purchase is our custom Ducati Bii-Rad cafe racer for the street that was a joint effort with Toine Biggelaar, master Ducati race engine builder at Biggelaar Performance in Oisterwijk, the Netherlands and our chassis and wiring expertise was completed by the team at Italian Iron Classics. Biggelaar Performance has had significant success racing their Ducati ST3 engine in different race classes there in the Netherlands. As a result, Toine built this engine with his trademark "recipe" for racing success and with the company name stamped into the rear of the engine cases. He mentioned that the ST3 engine was one the Ducati factory's lightest performance engines with 3 valves per cylinder. Toine also mentioned that the Ducati trellis frame from a Ducati 848 Superbike was one of the lightest frames made for the factory. What we have is an excellent example of effectively maximizing power:weight ratios as I have had to use the rear brake upon numerous occasions to keep the front end of the bike down during "power wheelies" on hard acceleration. To honour our collaboration, we elected to paint our Bii-Rad cafe racer in Orange & Blue, Dutch colours. Our build has been chronicled in an album to be found on my Scot P Wilson (Italianiron Classics) Facebook account with photos and a description of each steps of the build.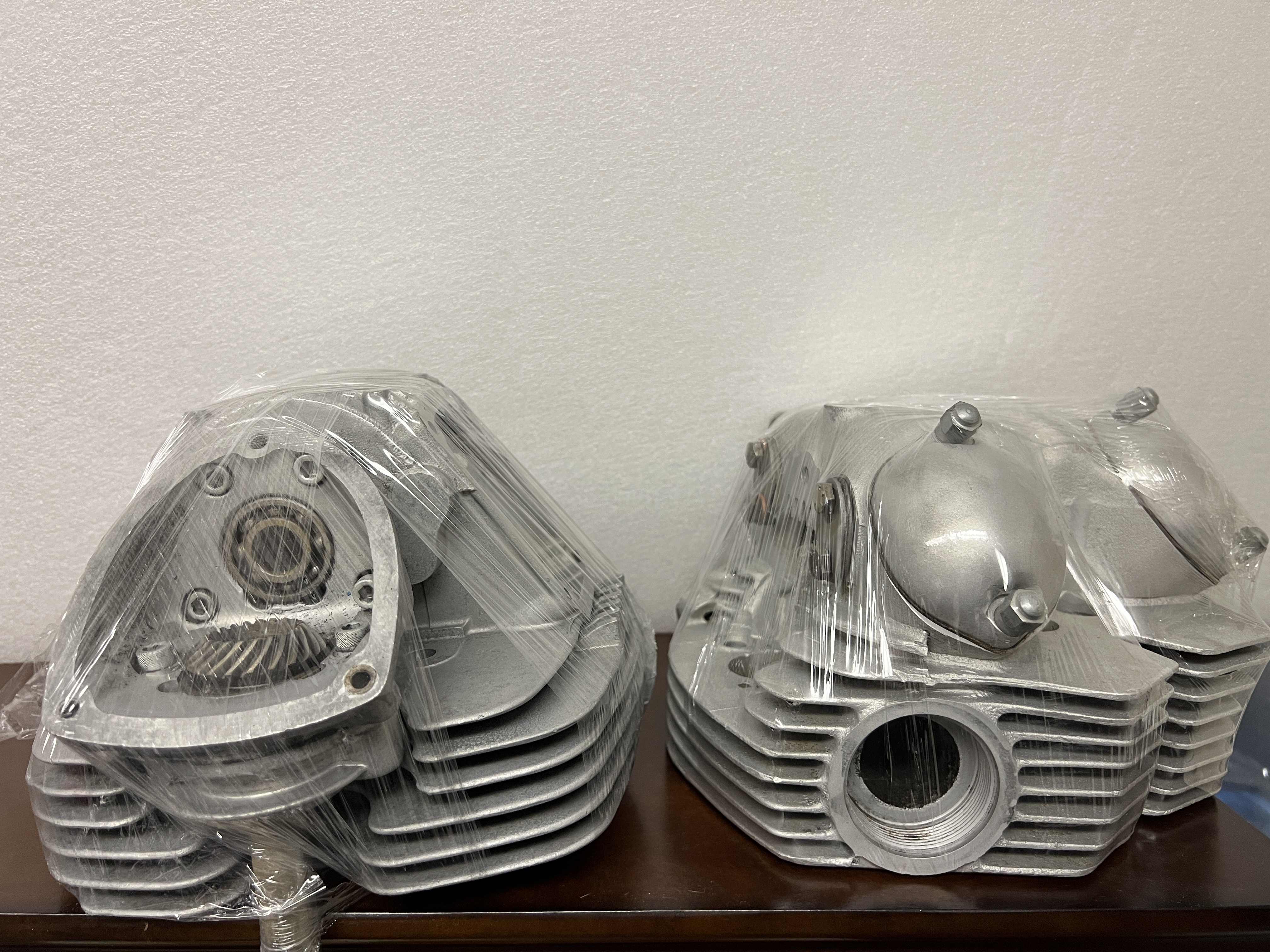 At Italianiron & BritIron Classics, we offer a wide spectrum of race quality spares and OEM items for the Ducati TT, Pantah, F1 racers as well as for the Norton Manx and Norton Commando racers. We also have a large amount of OEM items for vintage Ducati's and Nortons as illustrated above. Check out our Italianiron.com website for Ducati, TT, Molnar Manx and BritIron Norton Commando, Dominator and Atlas bits. We remain committed to supporting the world of Vintage Motorcycle Racing as well as to supporting those specialty bike builders as a supplier of quality chassis, bodywork and specialty racing spare parts. As mentioned before, at Italianiron.com, let us "Fuel Your Race Passions" is not just a slogan but a commitment whether you are building a vintage Ducati TT racer for competition, a Ducati F1 vintage street bike or a classic Norton Commando or Manx. As a result of our offerings, it is our hope to help you to become immersed in the history, the passion and the early technology of these amazing machines. Let us "Fuel Your Race Passions" to keep the sport of Vintage Motorcycle Racing alive and well!